In a previous post, we introduced the self-storage sector of commercial real estate as an asset class that has shown resilience through different market cycles and economic conditions. Resiliency is an investment characteristic many financial professionals are looking for today as they continue to confront a range of challenges, including high inflation, rising interest rates and uncertainty about a possible recession.
In this post, we discuss student housing, another commercial real estate sector that has proven to be a durable investment through challenging environments. Student housing is often considered a sub-sector of the broader multifamily asset class.
Market Dynamics
Student housing encompasses properties that provide housing for college and university students as an alternative to on-campus housing. Typically, student housing can be found in close proximity to the college campus.
Student housing is a highly fragmented, rapidly evolving sector of the housing market. Success is largely dependent on a supply and demand interplay at the local level. In the case of student housing, that interplay occurs on each campus.
Historically, student housing has been known for its predictable, stable performance even during times of economic volatility and geopolitical turbulence1, and most recently throughout the global pandemic. Increasing enrollment in higher education nationally drives demand for student housing, particularly near leading universities.
Student housing has long been considered an effective inflation hedge due to the dynamic pricing characteristics of the sector, where rents can be increased as leases renew annually or even on shorter cycles that track actual academic periods. Historically student housing has been a relatively low-risk commercial real estate sector with a lower expected sensitivity to inflation than other asset classes.2
Moreover, leases are often guaranteed by students' parents, enhancing the dependability of rental income. During the pandemic, student housing rent collection remained above 95 percent, while conventional multifamily rent collections were impacted primarily by unemployment during that difficult time.1

The spikes in enrollment during recessions, depicted in the chart above, are often attributed to the fact that post-secondary institutions are somewhat disconnected from the general economy. During recessions, when unemployment often rises, students may decide to return to school or enroll for the first time as employment opportunities decline.
Poised for Potential Growth
According to the research firm Yardi Matrix, "the student housing industry is experiencing strong but steady rent, occupancy, enrollment, and supply growth."3 While a high-interest rate environment and persistent inflation have slowed activity in the housing market, student housing rents remain continue to climb, with March 2023 year-over-year rent growth coming in at 7%.4
Recent changes in college demographics, including the evolution of online learning and an influx of college consolidations, have had a minimal impact on the sector's overall performance, spotlighting its strength. As noted in a report from Yardi Matrix, 2022 was the best year on record for the student housing market.
Student Housing Industry Key Statistics
Despite concerns about the impact of a recession and persistent inflation on commercial real estate, a few key metrics support an outlook of positive growth in student housing looking to the 2023-2024 enrollment years.
Rent Growth and Preleasing Occupancy Rates4
According to the Yardi Matrix National Student Housing Report Q2 2023:
"As of March, 69.7% of beds at Yardi 200 universities were preleased for the upcoming fall 2023 term, a 7.8 percentage point increase compared to a year ago, and the second straight year March preleasing rates hit an all-time high. Rent growth for student housing properties is exceptionally strong: Rents increased 7.0% year-over-year in March to an average of $829 per bedroom, the highest average rent ever for the cohort."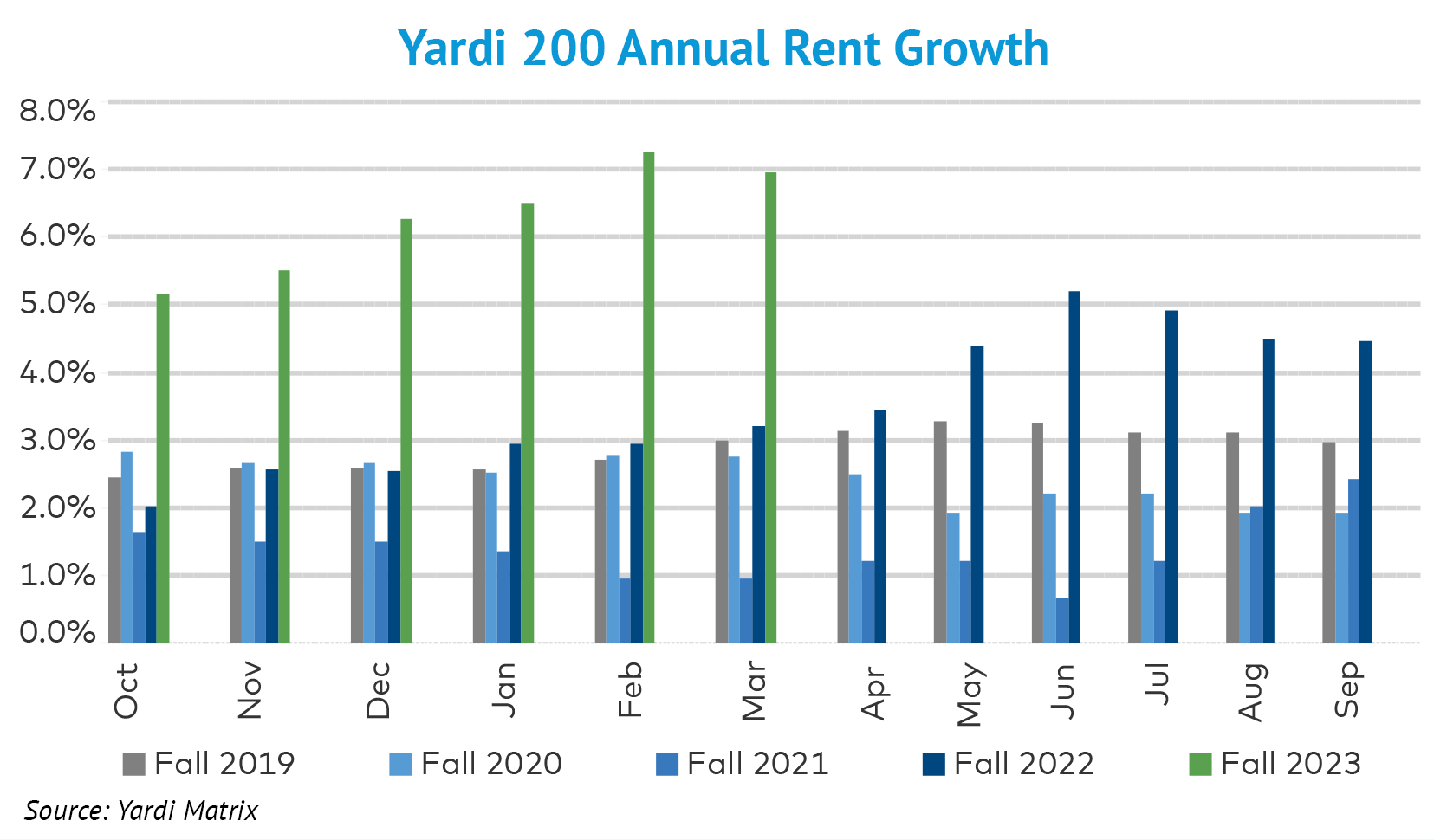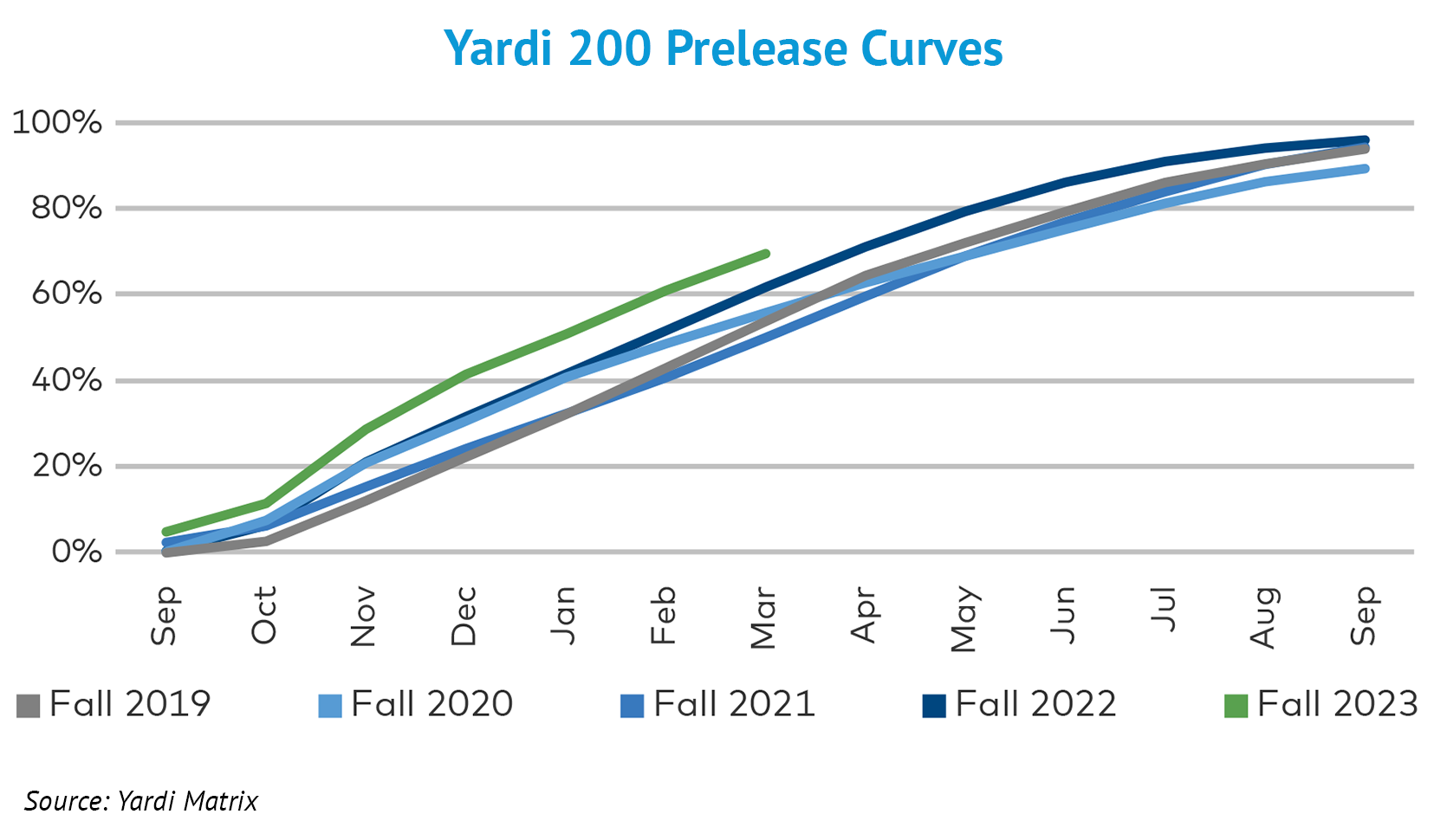 Further, Yardi Matrix notes, "At a time when most real estate asset classes are experiencing a slowdown in growth, student housing is soldiering on and remains one of the best-performing sectors in real estate. Known to be one of the most resilient industries in times of economic volatility, the market has reached new records in terms of preleasing and yearly rent growth."
Lifecycle Orientation
Americans value higher education. Despite a recent decline in student population during the height of the pandemic, a report from the National Center for Education Statistics (NCES) notes that undergraduate college enrollment is expected to increase by 9 percent from 2021 to 16.8 million students by 2031.6
According to NCES, the number of high school graduates realizing the importance of a college degree and its impact on future career opportunities and potential wealth is increasing. And the numbers paint a stark contrast of the disparity between those who earn a college degree and those who don't. The Bureau of Labor Statistics notes the average weekly earnings for college graduates are $1,305, as compared to $781 for high school graduates.7 That amounts to a difference of $30,000 annually.
Demand Drivers
It's the age-old story of real estate – supply and demand. In the case of student housing, new supply has fallen to an 11-year low.4 In the student housing industry, most colleges and universities are experiencing housing shortfalls, some quite severe.8 Highly competitive and large tier-one universities will continue to deal with a supply-demand imbalance as these schools are capturing the largest share of enrollment growth.
Limited supply and increasing enrollments create a strong rent growth environment for student housing property owners and developers. Furthermore, student preference will be a force driving more demand. This new era of college students seeks to live in off-campus student housing offering private spaces and high-end amenities versus the traditional on-campus shared dorm rooms.
Outlook for the Current Cycle
While industry analysts may argue whether we are in the late stages of the commercial real estate cycle, it's important to remember that real estate sectors can often perform quite differently from one another. Property quality and geographic location can have a significant impact on where a given sector resides in the cycle.
Purpose-built student housing are housing facilities built with units and amenities specifically designed to meet student needs. These assets are typically supported by strong fundamentals suggesting positive growth and performance in the future. High demand, stable rent payments, and sustainable high occupancy rates position the student housing sector as an attractive option for investors seeking a durable source of income with the potential for capital appreciation.
Student Housing: Key Risks
While several fundamentals highlight a positive outlook for student housing performance, there are risk factors to consider when evaluating student housing investments, including
Potential for higher vacancies, especially for smaller schools in Tier 2 and 3 markets and for some community colleges
Higher maintenance costs from wear and tear and additional operational leasing costs due to high turnover
Seasonal vacancies
Student safety and liability issues
Potential for defaults due to inexperienced renters inattentive to lease terms
Low or fluctuating student enrollment
Student housing is a property type that may be an attractive long-term strategy. For more insights into the student housing sector, contact your Inland Wholesaler.
1 Is Student Housing Recession-Proof? nmhc.org. March 31, 2021
2 Mapletree on Hedging Inflation with Student Accommodation. perenews.com. June 1, 2022
3 Student Housing Owner's Fall Focus. globest.com. April 15, 2021
4 National Student Market Housing Report. yardimatrix.com. April 13, 2023
5 Student Housing Records Record 2022. yardi.com. January 18, 2023
6 Undergraduate Enrollment. nces.ed.gov. March 2023
7 7 Compelling Reasons Why You Should Go to College. forbesadvisor.com. June 14, 2023
8 At Universities Nationwide, Housing Shortages Take a Toll. architecturalrecord.com; October 18, 2022